When you are going to select an air purifier for smoke, you also need to consider its efficiency against the smell from the smoke. Bissell air400 air purifier is one of the best in 2-in-1 performance, smoke, and odor removal. Bissell is famous for manufacturing vacuum cleaners for a long time. Now they have started producing air residential air cleaners. In this article, we review the Bissell air400 air purifier with pros, cons, and operating costs.
Jump to…
Bissell air400 Specifications:
Filtration: HEPA with Pre-filter layer, and honeycomb carbon filter
HEPA class: True HEPA
Filter life: 6 months for both filters
CADR: 279 cubic meter per hour (m3/h) or 160 cubic feet per minute (cfm)
Sensor: Particle sensor (PM 2.5), ambient light sensor
Room Coverage: 240 sq ft with 5 air changes per hour (ACH)
Number of manual fan speed: 3
Automatic mode: Yes
Size: 27.24″H x 18.9″W x 12.20″D
Device weight: 26.46 lbs
Rated power: 75 W
Maximum Noise: 64 dB(A)
Voltage: 110-120 V AC 60 Hz
Bissell air400 Aesthetics:
Bissell air400 comes with a metallic grey color, which they called titanium grey. On the front, it has a nice air quality display and Bissell branding. The particle sensor located on the left. Carrying handle placed on the left and right side. The air inlet is on the back. On the top, there is a control panel and an air outlet.
Bissell air400 Professional Air Purifier with HEPA and Carbon Filters for…
Every Purchase Saves Pets. Bissell proudly supports Bissell Pet Foundation and its mission to help save homeless pets
3 Stage Filtration. Includes a Pre-Filter, an Activated Carbon Filter and a HEPA Filter which captures 99.97% of 0.3 micron particles…
Honeycomb Structure Filter. Activated Carbon Filter has a unique honeycomb design filled with carbon pellets to better effectively…
Automated CirQulate System. Utilizes a PM 2.5 sensor to monitor, report and respond to changes in your indoor air quality by adjusting…
Filters Included. Comes with one HEPA Filter + Pre-Filter and one Carbon Filter
Check out other Bissell air purifiers:
In-depth Review on Bissell air400:
True HEPA Filtration: Bissell air400 comes with a large true HEPA filter. A thin sponge-like pre-filter attached to the HEPA filter. It captures more significant pollutants like hair, pet fur, lint and also extends the lifespan of the primary HEPA filter.
The pre-filter is washable with water.
Theoretically, the HEPA filter is capable of capturing particles that are sized down to 0.3 microns with 99.97% efficiency. So, it will remove pollen, household dust, mold spores, pet dander, and smoke particles from the air. Bissell suggests changing the filter every six months. Though the filter life depends on your usage and the air quality, however, the air purifier has filter life indicators for both HEPA and Carbon filter.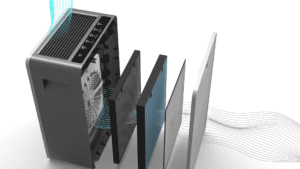 Honeycomb Carbon Filter: Bissell air 400 featured a large and 1-inch thick activated carbon filter to absorb household odors and VOCs. The honeycomb-structured filter filled with 50,000 carbon pellets, which weigh nearly 465 grams. The amount of carbon substance is sufficient to remove household odors efficiently.
Room Coverage and CADR: Bissell advertised the unit is capable of cleaning a room of 400 square feet with 3 air changes per hour. From this data we can calculate the airflow rate in cfm (cubic feet minute) with the formula: CADR = (3 ACH x 400 sq ft x 8 ft ceiling)/60 minute = 160 cfm.
The airflow rate of 160 CFM is pretty good enough for a medium-sized room. Check out our room size recommendations to select Bissell air400.
Noise Level: On the highest fan speed, its noise level is about 64 dB, which is very loud, but on the low fan speed, it drops to 30 dB that is very quiet. The refrigerator sound level is around 40 dB. So, for overnight running, it won't bother you by noise. It uses a brushless DC motor, and they claim 20000 hrs of runtime.
Particle Sensor (PM2.5): Bissell air 400 has a built-in particle sensor and displays the air quality with a color indicator and also shows PM 2.5 count. The automatic mode, which they called CirQulate system, runs based on the particle sensor.
In auto mode, it adjusts the fan speed depending on the sensor value like every other air purifier. You have to clean the sensor every two weeks to run it smoothly.
Control: Its super easy to control, has three modes of operation: max, auto, and silent. Also, you can set the fan speed manually: low, mid, and high. It features a preset timer of 1, 4, and 8 hours.
Night Mode: The white lights on the control panel and the front display turned off based on the ambient light condition. The color indicator goes dim. However, it doesn't change the mode of operation; you have to adjust it manually.
Certifications, Warranty: AHAM does not verify the CADR. However, it is EnergyStar certified. Bissell air400 comes with a 2-year limited warranty.
Check out our review >>> The 7 Best Quiet Air Purifiers
Suitable Room Size for Bissell air400:
If you have higher ceilings, then use our Air Changes per Hour Calculator to calculate the suitable room size.
Bissell air400 Operating Costs:
Annual Filter Replacement: $99 per year approximately. HEPA + Pre-filter: $69, 6 Months (check price on Amazon), Carbon Filter: $25, 6 Months (check price on Amazon).
Monthly Energy Consumption: ~ $4.9 (based on 12 cents per kWh and 18 hours use on top speed per day). Use our Energy Usage Calculator to find out the bill based on your usage and the local energy rate.
Video Commercial:
Pros & Cons:
Questions and Answers:
Q. How long the filters last?
A. Bissell recommends changing the particle and the carbon filter every six months. However, the filter life depends on daily usage and indoor air quality. Bissell air400 comes with a filter replacement indicator.
Q. Could I select it for my allergy?
A. Yes, you can, as it has a HEPA filter, which will remove tiny allergens like pollen, dust mites, pet dander, and smoke particles.
Q. Does it produce ozone?
A. Bissell air400 is 100% ozone-free as it has no electronic filtration system like an ionizer, UV light, or plasma.
Read our blog post >>> Frequently Asked Questions on Air Purifiers.
Final Thoughts
Bissell air400 is the first air purifier from Bissell, which offers some amazing performance. It is suitable to remove from both particulates and odorous pollutants. The auto mode is convenient to run the air purifier conveniently while saving energy bills.